SINGLES
The top two rows are foreign singles with picture sleeves, from left to right: "Heroes" (Japan), "John I'm Only Dancing" (France), "Sorrow" (Spain), "Be My Wife" (Italy), "Sound & Vision" (Germany), "Helden" (Germany), "1984/TVC15" (Germany), "Crystal Japan" (Japan) and "China Girl" (not sure exactly!). The other singles in this picture are all but one ("Space Oddity") of the 20 singles in the 'Lifetimes' reissue series from 1983.
A selection of picture disc singles and other alternative formats. From the top, left to right: The foldout picture sleeve of "Alabama Song", Tin Machine's "Maggie's Farm" booklet sleeve, "Time Will Crawl" poster sleeve. "DJ" green vinyl, "Blue Jean" blue vinyl, "Fame 90" picture sleeve, "Survive" picture disc, "China Girl" picture disc. "Hallo Spaceboy" pink marbled vinyl, "Strangers When we Meet" green marbled vinyl, "Fame 90" wallet sleeve with three prints. "Seven Years In Tibet" clear vinyl. The "Fashions" picture disc set wallet plus five of the enclosed singles.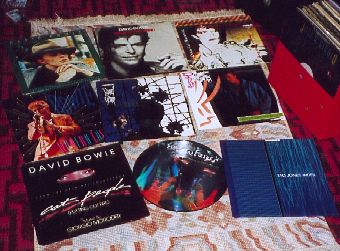 Some twelve inch singles. As before: "John I'm Only Dancing (Again)", the first Bowie 12", "Wild Is The Wind", the German "Scary Monsters". From the EMI years, "Modern Love", "Blue Jean" and "Never Let Me Down". Bottom row, the "Cat People" single, "Hearts Filthy Lesson" picture disc and the limited edition "Tao Jones Index" single of live versions of "Pallas Athena" and "V2 Schneider".