REWIND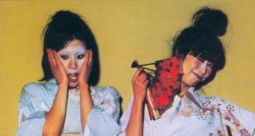 "Pictures of Jap girls in synthesis"
My desert island discs selection...subject to change! Remember, this is just my personal choice of what I consider good albums - although, it goes without saying, that you should own them all if you don't already! OK, here we go, in alphabetical order...
---
BEACH BOYS Smile (recorded 1967 - unreleased)
One of the most originals album ever recorded, Brian Wilson's LSD-inspired attempt to out-do his own "Pet Sounds" has never been officially released, although its appeared in various configurations on assorted bootlegs. A watered-down version was released as "Smiley Smile", with other songs re-recorded for "20/20" and "Surf's Up", but this bootleg is the only way to hear how the likes of "Wind Chimes" and "Cabinessence" were supposed to sound, whilst the 'aural cartoon' "Heroes & Villains" appears in its' unedited seven-minute form, forming the centrepiece of the album. Some of the stranger ideas Brian Wilson had on this album included recording the boys 'playing' such items as saws, axes, fire engine sirens and vegetables; and taping dialogue inside a French horn... Amongst all the madness, sublime gems like "Surf's Up", "Prayer" and "The Old Master Painter/You Are My Sunshine" still beam through.
---
BEASTIE BOYS Paul's Boutique (1989)
Practically ignored when it first came out, this cutting-edge album deserves to be in any music lover's collection - eclectic cut-ups (samples from Johnny Cash, Lou Donaldson, Curtis Mayfield, Sly and the Family Stone, Led Zep and even a snatch of the Sweet's "Hellraiser") and old skool hip hop. This album practically invented the sound of the 1990s, with its boundary-breaking, genre-busting mixture of styles, and paved the way for Beck, De La Soul, and the whole cut-up culture of the '90s. The Beastie Boys' lyrics are wacky stream of consciousness raps, infused with macho bragging and stoner humour; namechecking everything from "Clockwork Orange" and "Taxi Driver" to "Mad Magazine" and Dr. Suess. It even audaciously samples not one but TWO Beatles songs on "Sounds of Science" - and also features an "Abbey Road"-style collage of tracks to bring the album to a close.
---
BLONDIE Plastic Letters (1977)
We all know Blondie reached the peak of pop perfection with 1978's "Parallel Lines", but its immediate predecessor "Plastic Letters" (what a great title for an album!) is the point where Blondie had almost fine-tuned their Power Pop sound, but the quirkiness of their 'Shangri Las meet British Invasion' origins and '50s trash aesthetic hadn't been completely ironed out by Mike Chapman.

"Youth Nabbed As Sniper", and "Cautious Lip" feature a darker side to Blondie's music that rarely appeared again ("Fade Away & Radiate" being an exception); whilst "No Imagination" is a great example of Debbie Harry's underrated writing talent; and "Detroit 442" is a brilliantly authentic slice of white trash punk; and "Fan Mail" anticipates the Blondiemania of the following two years. A seriously cool album!
---
BLUR Parklife (1994)
Not as introspective as its predecessor "Modern Life Is Rubbish", "Parklife" is an intelligent but accessible pop-art record and a clever synthesis of thirty years of British popular culture (Bowie's "Fashion" on "London Loves", Madness on the title track, Syd Barrett on "Far Out", 1977 punk on "Jubilee" and "Bank Holiday", the Kinks and Beatles' flirtation with Edwardian England on the oompah-oompah instrumental "The Debt Collector"); whilst "This Is A Low" and "End of a Century" present a far more cynical and ironic view of fin-de-siecle England (akin to the Specials' "More Specials") than the ensuing Britpop and Cool Britannia nonsense - which Blur was unfortunately pigeonholed with.
---
DAVID BOWIE Low (1977)
"Sometimes you get so lonely..." Literally a desert island disc, as Bowie's ambient-electro-pop masterpiece is a virtual hymn to solitude and alienation (four of the five songs with lyrics refer to being in an empty room!). Beautiful songs of paranoia and breakdown on side one, whilst side two features four instrumental impressions of post-war Europe. Only Bowie could take the themes of breakdown and depression and turn them into a radio-friendly single such as "Sound And Vision", with its 'doo-doo-doo' backing vocals and synthesised strings, not to mention a highly influential drum sound that would dominate the 1980s. For all the waffle about Bowie's clinical coldness, "Always Crashing In The Same Car" and "Be My Wife" are heartbreakingly naked cries for help; whilst the chilling "Warszawa" sees Bowie put his pain into a made-up vocalese beyond words. Although notionally part of a trilogy, "Low" stands on its own as arguably Bowie's best album, and a groundbreaking record in rock and pop's development.
---
BUZZCOCKS Singles Going Steady (1979)
It's only a compilation of A and B sides put together for the American market, but the Buzzcocks were so adept at writing and recording short snappy two-and-a-half-minute singles (one single, "I Don't Mind", clocks in at only 90 seconds long!) and seemed to specialise in bitter songs of teenage angst and unrequited love, that this collection hangs together conceptually. Although a punk band, the Buzzcocks' songs were perfect power pop, and Pete Shelley's effeminate whine is a refreshing change from the football terrace style vocals of the more laddish punk bands of the time. Top tracks: "Orgasm Addict", "What Do I Get", "Why Can't I Touch It?", "Promises", "Lipstick", "Oh Shit!", "Ever Fallen In Love (With Someone You Shouldn't Have)?"
---
JOHN CALE Paris 1919 (1972)
As well as producing classic first albums by Patti Smith, Jonathon Richman and Happy Mondays, John Cale has had a very distinguished and eclectic solo career. "Paris 1919" is his third album, and probably his most well-loved, featuring some of his most beautiful songs - the haunting title song, the evocative "Child's Christmas In Wales", and the almost poppy "Andalucia".

A real singer-songwriter album, with Little Feat providing tight backing, and Cale's beautiful Welsh voice and hammering piano style to the fore. The songs also feature some interesting string arrangements, as Cale - a classically trained musician - wanted to hear classical arrangements in a pop setting that was a step more adventuruous than the twee 'classical for beginners' string quartets of Beatles songs like "Eleanor Rigby". He certainly succeeded - as "Paris 1919" itself testifies, when the orchestral into sends shivers down your spine!
---
CAN Tago Mago (1974)
The music created by the 'Krautrock' groups of the early '70s - Can, Faust, Neu and Organisation (who mutated into Kraftwerk) - was so far ahead of its time, that people are only just starting to catch up with it, as bands like Radiohead try and do something beyond the confines of the four piece rock band. Much of it still sounds ahead of its time now, or at least surprisingly contemporary (see "Neu! 77" and "Faust IV"). This is certainly the case with Can, who started out from proggy Gong-like beginnings to the kind of 'cosmic space rock' also being made by Miles Davis, Parliament, "Ummagumma"-era Pink Floyd and Frank Zappa.

"Tago Mago"s power comes from its' hypnotic, distorted, repetitive riffs and ambient drone ("Mushroom Head") and Damo Suzuki's fractured vocal style, married to the psychokinetic rhythms of the hypnotic bass grooves and almost tribal percussion - check out "Halleluwah" and "Oh Yeah". You can hear the sound of quite a few cutting-edge bands here, from "Metal Box"-era Public Image Limited to The Fall and Happy Mondays.
---
MILES DAVIS Bitches Brew (1969)
How to choose one Miles album out of so many? "Sketches of Spain", "Kind of Blue", "Birth of the Cool", "In A Silent Way", and "On The Corner" were all responsible for seismic changes in jazz, and music in general. "Bitches Brew" was a milestone in modern music making; expanding upon "In A Silent Way"s use of edits and loops to create music, with "Bitches Brew" Miles effectively created the first remix album - cutting up and looping snatches of music from various takes and sessions to create a unique piece of music. The opening "Pharoah's Dance" features no less than twenty such edits, but you're never aware that you're listening to anything other than a live take. Only Frank Zappa was using the studio and editing facilities quite so inventively and creatively at this time. Musically, too, "Bitches Brew" is an inspired fusion of Eastern approaches to playing and composition, free jazz, and rock and funk with some hard grooves being laid down.
---
NICK DRAKE Bryter Layter (1970)
Apparently Nick Drake fanatics tend to downplay this album as it is his most 'accessible', but I don't see why that it such a criticism (see also the third Velvet Underground album, below). "Bryter Layter" is an album of fragile beauty, with Nick Drake's delicate voice and some beautiful instrumentation, with guest musicians including Richard Thompson (guitar) and John Cale (viola, celeste, organ), and has a wisftul autumnal mood. "Northern Sky" is one of the prettiest songs I've ever heard, and the reflective "One of These Things First" is also touching, whilst "Bryter Layter" itself sounds like it could be the theme music to "Tales from the Riverbank" or "The Herbs"!

The only hint of whatever personal tragedy led to Nick Drake's suicide - give or take the regretful tone of "One of These Things First" - appears in the eerie closing song "Sunday". Other than that it's quite a mellow album great for lazy Sundays, or playing to unsuspecting Belle & Sebastian fans.
---
FATBOY SLIM Better Living Through Chemistry (1997)
Significant '90s British dance album, and quite different to his subsequent high-profile releases; "Better Living..." sounded really original when it first came out - mixing dance beats with an attitude normally only found in rock, bar the Chemical Brothers - and still has a certain freshness of approach. Tracks like "Santa Cruz" and "The Weekend Starts Here" possess a moody, atmospheric ambience quite at odds with "Goin' Out Of My Head", "Punk To Funk" and "Everybody Needs A 303", the seminal Big Beat singles that established Fatboy Slim, and therein lies the album's beauty I suppose.
---
SERGE GAINSBOURG Histoire de Melody Nelson (1971)
One of the masterpieces of French music, Serge Gainsbourg's 1971 epic concept album features swirling Eastern-style strings, stinging electric guitar breaks, funky percussion and Jane Birkin's breathy whispering and Bjorky yelps. "Melody Nelson" has become a cult classic, namechecked by David Holmes, Air (quelle surprise) and many other modern musicians.
---
GARBAGE Garbage (1995)
Post-Blondie industrial techno-pop with the captivating frontwoman Shirley Manson. Now that woman has got ovaries, as they say - "Garbage" is a strident expression of the various forms of female sexuality, from the perverse ("Queer") and sado-masochistic ("Stupid Girl") to the feminine ("Milk") and feisty ("Supervixen"). A great cybernetic mixture of real and sampled guitars and drums - the intro to "Stupid Girl" is taken from the Clash's "Train In Vain"!
---
KRAFTWERK Trans Europe Express (1977)
One of Kraftwerk's essential albums, "Trans Europe Express" is a pioneering dance record, with the title's proto-techno Motorik Disco beat (itself a homage to David Bowie's "Station To Station", hence the lyric "From Dusseldorf to West Berlin to meet Iggy Pop and David Bowie"). Kraftwerk's dehumanised image is perfectly captured on the eerie "Hall of Mirrors" and the brilliant "Showroom Dummies" - a precursor to Gary Numan, Bowie's "Fashion" and numerous electroclash records - with its funny yet spooky 'sci fi meets pop art' lyric of mannequins coming to life and going to the disco. The most surprising track is "Europe Endless", which shows Kraftwerk's romantic side, in similar style to "Neon Lights" on "The Man Machine".
---
THE LEAGUE UNLIMITED ORCHESTRA (The Human League) Love And Dancing (1982)
One of those rarest things, a remix album that is even better than the original. Even more amazing given that this revolutionary album was one of the first remix albums - not just a collection of extended remixes, but a complete re-imagining of The Human League's "Dare!", assembled by producer Martin Rushent. Rushent removed 90 percent of the vocals and restructured the songs, often altering the tempo or stripping down the song, seamlessly segued into two side-long tracks. Brilliant stereo mixing, and an album perfect for headphones listening on the hi fi or personal stereo, or just dancing to!
---
NICO The Marble Index (1970)
In complete contrast to Nico's recordings with the Velvet Underground and her solo debut "Chelsea Girl", "The Marble Index" is one of the scariest and most uncompromising albums in rock. Nico's haunting voice might sound like an atonal drone from a pop perspective, but recalls her Eastern European folk heritage, and is perfectly framed against John Cale's avant-garde string arrangements and Nico's wheezy harmonium playing to create an unsettling yet compelling Gothic masterpiece. It would make a great soundtrack to "The Seventh Seal". Listen to "Frozen Warnings" with the lights off if you dare...
---
PERFORMANCE Original Soundtrack (1970)
The soundtrack to the Mick Jagger/James Fox film about sex, violence, role playing, sexual identity and drugs, is even more of a psychedelic experience than the film. Ranging from the hard-hitting rock of Randy Newman's "Gone Dead Train" and Jagger's "Memo From Turner", to Jack Nitzsche's synthesisier feedback, Merry Clayton's bluesy wailing, Ry Cooder's slide guitar on "Rolls Royce and Acid" and the lounge music of "Harry Flowers"; the "Performance" soundtrack is a musical trip. "I like that...turn it up!"
---
PIXIES Doolittle (1989)
The Pixies were the '80s equivalent of the Velvet Underground - a relatively obscure band during their brief existance, yet somehow one of the most influential bands of alternative rock; indeed even Nirvana would sound very different without the Pixies, much as people talk about their originality. "Doolittle" features at least four alternative rock classics - "Debaser", "Wave of Mutilation", "Here Comes Your Man" and "Monkey Gone To Heaven". Their music is a unique mixture of '50s surf pop, Cramps-style garage rock and punk, with a slight Neil Young influence; occupying the same landscape as David Lynch films. The anti-REM!
---
IGGY POP Blah Blah Blah (1986)
OK, this isn't exactly "The Idiot", "Funhouse" or "American Caesar", but "Blah Blah Blah" is such an under-rated, little-known chapter in Iggy Pop's history that it deserves more recognition, and it's unfamiliarity means it still sounds fresh. Co-produced and co-written by Bowie (a la "The Idiot" and "Lust For Life"), "Blah Blah Blah" is Iggy Pop Goes Pop - and its 80s pop at its finest, with Bowie concocting some absolutely gorgeous and stunning melodies on songs such as the lush ballad "Shades". It makes you wonder how Bowie could give away such first class material, whilst putting out such shoddy material under his name at the same time ("Never Let Me Down", recorded just after this album).

Iggy has all but disowned this ultra-commercial effort, in spite of the fact that songs like "Isolation" and "Hideaway" feature some of his most personal, vulnerable lyrics of his career thus far. It's 80s pop, as I say, but the minimal production goes to show that it doesn't have to sound like Stock Aitken And Waterman-style 'everything but the kitchen sink' vulgarities - just check out "Baby It Can't Fall". The album's techno-pop mix of rocky guitar with sequencers and choppy backbeats is a formula that Bowie had several attempts at trying to recreate on his own albums, only managing to refine it on 1997's "Earthling".
---
THE RAMONES The Ramones (1977)
The Ramones didn't have to act punk, they were punk. All fourteen songs on their first album - on which the longest song is 2.35, and the shortest 1.30! - are dumb, snotty, and brattish; they couldn't be more different from the artier CBGB's bands like Television and the Patti Smith Group. "Ramones" proves that you don't always need much musical proficiency as long as you have enough attitude to pull it off - although, having said that, cuts like "Judy Is A Punk" and "Now I Wanna Sniff Some Glue" wouldn't rock if they weren't any good! Sadly, both Joey and Dee Dee Ramone have died in the last year.
---
LOU REED Live - Take No Prisoners (1979)
When you get a Lou Reed live album, you know you're not just going to get straightforward renditions of his songbook. "Take No Prisoners" is a brilliantly authentic live album recorded on his home turf of New York City in 1978, and is probably as close to the 'real' Lou Reed as you can get. As well as some unique versions of "Sweet Jane", "Berlin", "Waiting For The Man" and "Satellite of Love", with improvised lyrics and hilarious ad libs, Lou spends as much time talking as singing, acting more like a stand-up comedian!
Shouting back at hecklers with withering put-downs ("If you write as good as you talk, nobody reads you"), slagging off Patti Smith, Bruce Springsteen, Barbra Streisand, and Diana Ross, and hurling highly personal insults at the New York critics in the front row, naming names - the album's title is very accurate!
In this incarnation, "Walk On The Wild Side" becomes a fifteen-minute monologue in which Lou tells us what he did after leaving the VU, how he came to write the song, and the truth about the people named in the song; all the while slipping in and out of the set lyrics without living a beat. "Sinatra At The Sands" meets "Lenny Bruce - the Carnegie Hall concerts"!
---
ROXY MUSIC For Your Pleasure (1973)
More art-pop than glam-rock, Roxy Music's second album sounds like nothing else on earth; a mixture of otherworldly synthesiser noises, rock'n'roll saxophones, some of the strangest guitar sounds you'll ever hear (a la Bowie's "Lodger" or Radiohead's "OK Computer") and Bryan Ferry's strangulated crooning; whilst the lyrics go beyond the cover-girl glamour of the record sleeve (androgynous model Amanda Lear holding a panther on a lead) into a celebration of artifical dreams and synthetic nightmares - as on the voluptuous ballad "Beauty Queen" and raucous "Editions of You"; and the truly disturbing "In Every Dream Home A Heartache". Do the Strand!
---
SEX PISTOLS Never Mind The Bollocks Here's The Sex Pistols (1977)
Or, the best punk rock album in the world...ever! With those classic singles "Anarchy In The UK", "God Save The Queen", "Pretty Vacant" and "Holidays In The Sun" (the best opening song on an album); the still-shocking "Bodies"; Lydon at his sneering sarcastic best on "Liar" and "Seventeen"; the suprisingly poppy "No Feelings" ("In love with myself - my beautiful selfish") and the caustic put-down "New York", right down to the blown raspberry that ends "EMI"... what more can I say! Even 25 years later, its raw power hasn't dated - but what's surprising is it is as well-produced and tight as any pop album!
---
FRANK SINATRA Sings The Select Cole Porter (recorded 1954-1960)
OK, it's another compilation, but by anyone's standards, this collection is the closest thing to perfection in popular song. The combination of Frank Sinatra's stunning vocals (an unparalleled interpreter of other people's songs), Nelson Riddle's sympathetic arrangements, and Cole Porter's witty, sophisticated, romantic and riqsue lyrics is an unbeatable combination. Any album with such masterpieces as "I Get A Kick Out Of You", "I've Got You Under My Skin", "Night And Day" and "What Is This Thing Called Love?" deserves to be in everyone's record collection.
---
SPARKS Kimono My House (1974)
The wierdest duo ever to get into the top ten, "Kimono My House" (with its memorable Geisha girls cover) is the fullest flowering of the Sparks brothers Ron and Russell Mael's mixture of "Sheer Heart Attack"-era Queen guitar-driven bombast, Russell Mael's castrato operatics, and keyboardist Ron Mael's deadpan lyrics full of bitter-sweet boy-meets-girl scenarios, innuendo and puns. There's always something new to hear each time you play this album, either in the wordy lyrics or the layered mix.
---
STOOGES Funhouse (1970)
"Raw Power", the third and final Iggy and the Stooges album, may be the 'more punk than punk, more metal than metal' milestone that the Stooges go down in history for; but you get more bang for your buck with "Funhouse", which shows how original the Stooges could have been if they hadn't screwed up so spectacularly.

Even heavier than the first album, hitting the ground running with "Down On The Street" and not letting up until the dying groans of the free-jazz freak out "L.A. Blues". The only change in tempo is the self-hating ballad "Dirt", which starts off in Jim Morrison mode, before breaking out into a rage of animalist fury. The stop-start breakdown in "T.V. Eye" is one of the coolest moments on a rock record..
---
SUEDE Coming Up (1996)
1990s pansexual glam-pop at its finest! After their proto-Britpop debut "Suede" (which included the very fine singles "The Drowners", "Metal Mickey" and "Animal Nitrate") and their moody follow-up "Dog Man Star", Suede pulled out all the stops with "Coming Up".
Chocka with anthems for '90s glam misfits seeking escapism from mundane everyday life ("Trash", "Lazy") and the chemical generation ("Beautiful Ones", "The Chemistry Between Us"), JG Ballard-style visions of romanticised futuristic decay ("Picnic By The Motorway"), Roxy Music-style celebration-cum-critiques of glamour and fame ("Filmstar" - "It looks so easy..."), and, in "By The Sea", the kind of majestic ballads that Brett Anderson writes so well, or used to at any rate.
---
SUPER FURRY ANIMALS Radiator (1997)
The stepping stone between the gonzo surf-pop of their debut "Fuzzy Logic" and the more experimental "Guerilla", the Super Furries push the boundaries of the pop song back as much as possible whilst retaining its basic sensibilities with their gorgeous harmonies and catchy melodies.

Their lyrical content is never mundane - ranging from 'chupacabras' (mythical South American blood-sucking bat-monsters), to the life of Albert Einstein ("They call him MC squared, cos he raps like no other; an asthma sufferer like Ernesto Guevara") - although, the wordplay and zaniness aside, the album also features some poignant introspective moments such as the gorgeous "Demons" and very dark "Download".
---
T REX Electric Warrior (1971)
Marc Bolan's breakthrough album, "Electric Warrior" captures Bolan and the band establishing the foundations of the 'Bolan Boogie' formula which would go on to give them big hits in 1972 and 1973. Unlike later recordings, the formula here is still fresh - songs like "Get It On" and "Jeepster" sound like they were recorded yesterday! Tony Visconti's production is subtle yet effective - tasteful additions such as string arrangements, a horn section, the unlikely appearance of a flugelhorn on "Girl", and the Turtles' falsetto backing vocals.

Marc's acoustic background with Tyrannosaurus Rex is still present on beautiful songs such as the autobiographical (and, in retrospect, rather morbid) "Cosmic Dancer", the McCartneyish "Life's A Gas"; and Bolan's poetic lyrics are tremendously evocative with much space age and romantic imagery. For anyone who doesn't take Marc Bolan seriously as a musician, look no further than the slinky blues number "Mambo Sun" with some great work playing by the national elf.
---
VELVET UNDERGROUND The Velvet Underground (1968)
Any one of the Velvet Underground's four albums (or indeed, the outtakes collection "V.U" and the double live album "Live 1969") could merit inclusion in a list of my desert island discs, each for their own unique reasons. This, their third album, was their first recorded after the departure of John Cale, and as a result is less experimental and aggressive - with the exception of "The Murder Mystery".

The first of Lou Reed's attempts to present an album as a thematic whole, "The Velvet Underground", contains some of his most elegaic meditations on love and relationships - from the beautiful-sad "Candy Says", to the poignant "Pale Blue Eyes" ("The fact that you are married only proves you are my best friend") and the erotic "Some Kinda Love". Also introduces us to the joy of Maureen Tucker's singing voice on "After Hours", for which we should be eternally grateful. The album has an acoustic, intimate feel, and was deliberately given a muffled mix - commonly known as "the closet mix" (unfortunately the current CD features Verve's 'official' mix, complete with a completely different version of "Some Kinda Love").
---
THE WHO The Who Sell Out (1967)
In my opinion, the best thing The Who ever did - certainly more concise and light-hearted than their overlong rock operas "Tommy" and "Quadrophenia". A hommage to the pirate radio stations and their non-stop diet of pop songs and adverts, "The Who Sell Out" is a celebration of the the material world of '60s teen life and pop culture.

Pete Townshend justifies his position as one of Britain's most insightful songwriters with tragicomic vignettes about such teenage traumas a a girl whose perspiration problem ruins her chances of an audition ("She should have used Odorono...") and such rites of passage as getting a tattoo ("Welcome to my life, tattoo, I'm a man now thanks to you; I'm sure that I'll regret you but the skin graft man won't get you, you'll be there till I die...").

The CD reissue is stretched to bursting with a whole album's worth of outtakes and jingles that make "The Who Sell Out" twice as good as ever! Hopefully the alternative mono mix might make an appearance on CD one day...
---
STEVIE WONDER Talking Book (1973)
You can't really fault an album that has both "You Are The Sunshine Of My Life" and "Superstition" on it; not to mention other toe-tappers such as "Maybe Your Baby" and "Tuesday Heartbreak" and the gorgeous "I Believe (When I Fall In Love It Will Be Forever)". This album must have sounded pretty original when it first came out, especially as Stevie played most of the instruments himself, and with it's revolutionary use of synthesisers in a non-rock format.
---
FRANK ZAPPA Studio Tan (1977)
Near-impossible choice to pick one Zappa album out of the fifty-odd albums he released during his life time (some of them double and triple albums!). Do you choose seminal debut "Freak Out!", jazz/rock classic "Hot Rats", something from the Flo & Eddie era, big band masterpiece "The Grand Wazoo"...? "Studio Tan" is as good an example of Zappa at his best as any of the above, an quirky unpredictable album showing how Zappa had fun in the studio, and the comic book artwork gives an indication of the contents - this is the album with the lengthy cartoon-like "The Adventures of Greggery Peccary", the hi-speed bongos bubblegum surf-pop of "Lemme Take You To The Beach" and last but not least, "RDNZL", a deranged eight minute instrumental that blows the top off your head and takes you on a zigzag journey through various musical avenues with plenty of marimba madness, abstract chord progressions, and a monstro-guitar solo by Frank (the second greatest guitarist of the century after Jimi)
---