ALBUMS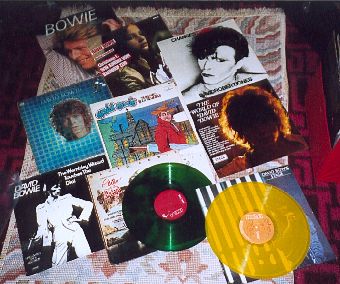 Some rare, obscure and curious albums from my collection.
Top, left to right: The Italian compilation "Bowie Rare", the German soundtrack album "Christiane F", and the bootleg "Changesthree", immaculately designed as an official RCA album.
Middle row, from left: the original UK "David Bowie" LP on Philips (reissued as "Space Oddity"), the American cowboy sleeve for "The Man Who Sold The World" and the original cover for the Decca collection "The World of David Bowie" with a curly haired David.
Bottom row, from left: the bootleg album "The Wembley Wizard Touches The Dial", the emerald-green vinyl edition of "David Bowie narrates Peter & the Wolf", and the yummy lemon-curd yellow vinyl dutch import of "Stage"
Two interesting Ziggy albums. At the top is Rykodisc's promotional package of the 1990 "Ziggy" reissue, boasting a replica of the original RCA Dynaflex pressing alongside the remastered CD. It also includes a print, the Rolling Stone review, and two press releases.
Below that is the UK vinyl reissue in 1997, part of EMI's Centenary collection, complete with a facsimile of the original inner sleeve.